reviews01 :: reviews02
R A N D O M PÓPP REVIEWS: PAGE01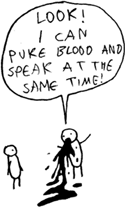 Everyone has heard of one or two Icelandic pop artists: Björk, Sigur Rós, the Sugarcubes... ambient fans have found Múm and the Album Leaf (who just resides in Iceland, ok). Instantly when mom told me about the idea of reserving a trip to Iceland, I became interested; I'd heard the basics, the pops, the tops, but what else was there to discover? As I subsequently found out, the music scene may be "large" for a city of 190.000 inhabitants (and a country of 280.000 people,) but still pitifully small compared to the hype I had succumbed to prior to the trip. Perhaps it was in my head. There are a few bands out there in Iceland that are of international quality (and have the necessary funds to act overseas), but as a final conclusion I must point out that Iceland is no different from say Finland these days (now that we have a few international pop artists as well.) I expected more. However, I'm willing to give Icelandic artists some extra points for having a large ego: an artist wannabe with an ego is almost a full-fledged artist. We dance a fine line here. That's what most of Icelandic art is all about – it's about ego!
I've included some staples of Icelandic music I find worth mentioning as a measure stick for you to see how the discs I have measure up. The first page contains more familiar artists and the rest delve more into the niche side of Icelandic music.
Sigur Rós
: Von






Originally hailed as something new, time has greatly eaten out Von, Sigur Rós' first album. Originally getting compared to Mogwai, Godspeed My Black Emperor and Spiritualized, even the band (Jónsi: Vocals/Guitars, Kjarri: Keyboards, Orri: Drums, Goggi: Bass) admits to the sound has nothing on these acts and suffers of terrible suffocation. The production on the record is really not what it should (or could) be. Originally, the band even wanted to fix the record up afterwards, but there just was not enough time (although you can find one patched-up left-over song on Von Brigði called Leit Að Lífi - an excellent, excellent song!) The songs on the album come off as too post-rock (post-ambient, almost) and post-melody and post-music - frankly we don't have anything that would really catch our ears on this record, which is a shame, since the potential is there, and the band gets points for pioneer spirit. I'm sure it's all for the best that Von is not being sold anywhere else but in Iceland.

Sigur Rós
: Ágætis Byrjun






Ágætis Byrjun is the best record to ever come out of Iceland. When it was released in 1999, it didn't took very long to spread over the world (denying Vanilla Sky and Tom Cruise or not.) It encapsulates everything that is brilliant about Icelandic art and has none of the basic Icelandic flaws (being pompous, underground and ugly on the outside.) A solid masterpiece by everybody's standards everywhere (Pitchfork, Nude as the News). This is it. Take it.

Sigur Rós
:
( )






The band's cliché-wallowingly (or geniously?) titled third record is, in many ways, a naturalistic, naked sequel to their previous album. Whenever I listen to this album, I get the feeling the band chose an (blatantly?) easy path to walk on this time, and although the record is produced, played and packaged brilliantly, it is just not as hearty (perhaps "new" would describe it best) as their previous record. It comes off as trying to move us, thereby damaging itself slightly in the process, however not nearly as badly as many other bands' efforts exported from Iceland. ( ) would be a record completely in its own league, inveting memorable melodies in ambient, were it not for Ágætis Byrjun. Excellent in its own right, just not as good as its predecessor!

Sigur Rós
: (Vaka)






Untitled #1, (or Vaka as it is known among fans) the first and only single extracted from ( ), is available in the stores in two formats: CD or CD+DVD. The DVD includes the band's videos this far and is a must have. All of their videos are meaningful, and with figures like Floria Sigismondi directing them, you can not go wrong with this DVD. The CD itself contains a greatly lengthened version of Vaka (with the extra music composed afterwards - just like it sounds like, glued-on-top). What we gain in minutes is really not worth mentioning, specially compared to the original - and brilliant - song. You should only buy this for the DVD, which is not actually a bad deal at all. Consider Vaka an extension to the videos, and not the other way round!
Sigur Rós
: Ba Ba Ti Ki Di Do






Surprisingly getting a single-format release, these three tracks were originally composed for Merce Cunningham's ballet, Split Sides, alongside with Radiohead. A good effort, but when Sigur Rós' music lacks Jónsi's choirboy-on-drugs -vocals, it lacks almost fifty percent of the punch the band normally delivers. The melodies are strong, however, and surely add a whole new dimension to the dance act. Without the visuals, this is what it is: a small part of a soundtrack.
The Sugarcubes
: Stick Around for Joy (1992)






The Sugarcubes are a cornucopia for music criticism and witticism. What that essentially means is that Iceland's first true-and-proper musical export has been largely analyzed to death, and thus I personally have little to add to all that has been written about them: It's true that Björk's future career is already visible and interwoven in the gaps of the band's music, that the best songs of the band are fantastically quirky indie pop, and that Einar Örn Benediktsson single-handedly ruined much of their material with his "spastic vocal interjections", as Stephen Cook describes them in his Allmusic review.
I agree with all three sentiments wholeheartedly.
That aside, the Sugarcubes' music was always characterized by four things: Antagonistic vocalizations (Björk versus Einar), an extremely sharp sensibility for catchy melody and rhythm veiled beneath experimentation and excellent timbre guitarlines by the band's guitarist Þór Eldon, who is definitely in need of a critical reappraisal.
That's exactly what you will find on "Stick Around for Joy", though compared to the rest of their catalogue, Björk's angelic voice receives more space on this album in contrast to Einar, but has already left some of the childish charm that she introduced over their earlier tracks such as "Birthday" and "Mama". The percussive work on the record is extremely funky in style and in fact sways all over the tracks almost too uncontrollably, eventually becoming a bit of an annoyance during the latter half of the disc.
That's all. Three-star solid in and out. I suggest the band be enjoyed with "The Great Crossover Potential," their greatest hits, as Einar-free as it ever got. By the way, there is actually one thing to thank Einar for: Without his yelping, yodeling and yelling, Björk might never have found the need to break out of the band for a career of her own. Thanks for the music, Einar!

Björk
in a Quick Reference Table(tm) Debut





Post





Homogenic





Medúlla





Selmasongs





Vespertine





Glíng Gló





Maus
: Í þessi Sekúndubrot Sem Ég Flýt







In 1999, Maus (Biggi: Vocals/Guitars, Danni: Drums, Eggert: Bass, Palli: Guitar) were a rather bland-looking, pop-oriented group throwing around very generic-sounding songs which were clearly made to sound and seem grand. Some of "Í þessi..." works very well, most falls flat with especially the electronica on the record sounding damned cheap (on the first track, Strengir, I can't help thinking but that has to be intentional). On good songs, they sound as good as today, but on the worse songs, the band's output suffocates the melodies with arrangements and artificial overtones. Biggi's Icelandic sounds steely and sharp to the unprepared listener, and is surprisingly (after hearing Musick first) perhaps the worst aspect to the record. There's potential on this one, definitely, and Í þessi Sekúndubrot Sem Ég Flýt is very accessible guitar rock, but compared to the newest album, it's more than four years behind in development. Thumbs up for the cover art, however, as it is one of the best I have seen (and it is segmented so nicely I just had to show all of it to you).

Maus
:Musick






Maus have apparently been playing together for 11 years, basically going through their sets only in the venues of Iceland (scoring a rather massive 270 gigs, I mean, you just can't play in the same venue every week. This is Iceland, after all.) You'd think that'd make a band go nuts. However, in between 1999 and 2003, the band somehow evolved greatly (perhaps they did go nuts?) and brought on board a more melancholic, airier and lusher and touch to their sound. This move has truly paid off. The vocalist/guitarist, Biggi, is doing a much better job today with newfound gentleness to his voice. The melodies are catchier and the sound world is definitely more solid throughout the record, with tinges of electronica everywhere. Perhaps they had better access to money this time. The dreary made-only-for-the-radio songs are all gone. It's a good ride from beginning to end for anyone that fancies a bit of Mew or Placebo (whom they just warmed up earlier this year), preferably blended together in a milkshake. Many memorable songs to listen to on this album, and one song still in Icelandic, called Glerhjarta, which sounds so much softer than anything on their previous record. Off-album, also highly suggested (their best song by –far-), is a remix of "Replacing My Bones" by dElpHi, called "Liquid Substance" and will end up on their greatest hits CD coming sometime soon. To be truthful, just the fact that Roger O'Donnel of the Cure has played with these guys is enough for me to like them a little.

Kimono
: Mineur-Aggressif






When you marry Radiohead, Nirvana and Tool, let them reproduce in a very over-the-top manner, take a photo of the baby, squint with your eyes while looking at the end result, this is what you get, with especially traditional, angsty, urban Icelandic cover art included. I find it hard to issue any opinions over this mathematic post-grunge -record. Perhaps you would like to know that the music video for "Japanese Policeman" is completely influenced by Quentin Tarantino's Kill Bill, and that the lyrics written for the songs are actually short stories with a knack for poetry, with the songs only contain a fraction of what is in the booklets. "Japanese Policeman" was nominated for "top song" at the Icelandic music awards last year, as was the band for the prize of "best new band." That's about it. Popp amongst Slint fans.

Mínus
:Halldór Laxness






They've been on the cover of Kerrang! They have warmed up Metallica in a concert that was viewed by a whoppin' 6% of the whole population of Iceland. They've garnered excellent reviews in magazines such as Metal Hammer, NME, Rock Sound and the Independent. And you know, they were originally a cacophonic, basement hardcore act. The music was mean, vicious, and melody was nowhere to be found. And the critics adored it. On Halldór Laxness, there's plenty of that old stuff slammed against terribly atonal melodies. There's screeching against ridiculous horn structures, for example, on "The Long Face", the track currently rotating heavily on Popp Tíví, (sporting a video that prompted me to buy this record). I laid my hands on a new pressing of the CD, seemingly aimed for newfound audience, with better cover art and a multimedia section that has four videos.
Rather nice for the price. What really makes this record troublesome to review is the fact that it really, really doesn't try to cater for anyone. It's Mínus, I guess, but it doesn't help; it's inconsistant: There are good melodies, bad melodies, good lyrics, bad lyrics, good beats and bad beats all scattered on the record very evenly. It's as though the band wanted to create an extremely mainstream effort by -not- doing a mainstream record. Only the final track, completely-different Last Leaf Upon the Tree, tries to break free of chain of the record, but fails to do so by not being a song at all, really. Sorry. You just don't add a song the main vocalist doesn't sing on as the last on the cd. It's not the next big thing. Don't hold your breath.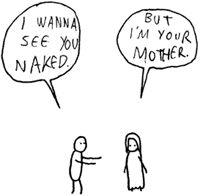 More reviews coming soon, including many Múm reviews, the Album Leaf, an evaluation of 101 Reykjavik (the movie). Also more of Sigur Rós, I guess. Please come back soon!
On page 2, you will find reviews of KUKL and Leaves.